News
Last test before the game against Górnik: Wisła 1-0 Zilina
Published: 04-02-2019 15:02
The White Star achieved a 1-0 victory over MŠK Žilina and are looking forward to starting the league well. The only goal was scored by Wisła's new player Sławomir Peszko.
Przemek Marczewski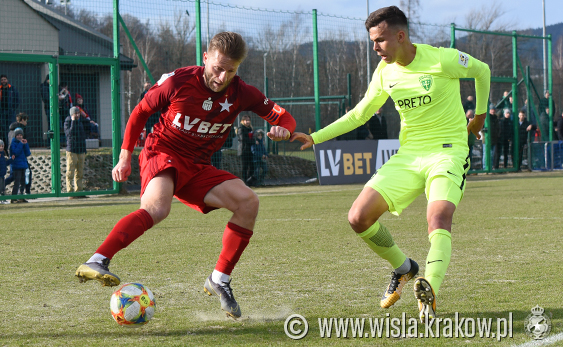 It was the first time Peszko played from the first minute. Already at the beginning, he had a clear opportunity to test Volesak but his strike wasn't strong enough to defeat the goalkeeper. Before scoring a goal about twenty minutes later, he had created danger in the rivals' penalty area a few times. In the minute 22., Drzazga sent the ball to Kolar who just slightly touched it and then, Peszko didn't hesitate to put the ball into the net. Drzazga himself could have scored another goal, this time from penalty kick, but the ball hit the bar and didn't go in.
The second half was less intensive and both teams struggled to create cler-cut chances. Two players had to leave the pitch injured: Maciej Śliwa and Matej Palčič.
Wisła Kraków 1-0 MŠK Žilina (1-0)
1-0 Peszko 22'
Wisła Kraków: Lis - Palčič, Wasilewski (70' Burliga), Sadlok, Pietrzak - Peszko (76' Morys), Plewka, Basha (45' Klemenz), Błaszczykowski (45' Śliwa; 82' Hoyo-Kowalski) - Drzazga, Kolar
MŠK Žilina (first line-up): Volesak, Kasa, Minarik, Sluka, Kralik, Anang, Mihalik, Kacer, Diaz, Pecovsky, Bozenik
Wisła Kraków Press Office