VIP Tickets
VIP Tickets
Wisła Kraków VIP Area is a place dedicated to demanding supporters who want to experience the joy of football in maximum comfort and exclusive conditions. Also, it is a space for your business and worth visiting spot on the map of the city, where you can always spend time in an interesting way.
We would like to encourage you to purchase your VIP ticket and experience excellent football hospitality. You can chose between two categories of VIP tickets – VIP Gold and VIP Silver.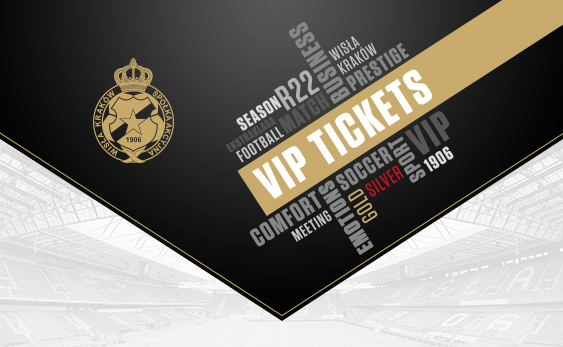 The MAX-Fliz VIP Gold zone is located in the central part of the west stand. An elegantly decorated area with full catering, open up to two hours before kick-off, where the guests can enjoy comfortable seats with an excellent view of the pitch, take part in extra activities (e.g. lotteries) and have an opportunity to meet the White Star players. Moreover, it is an ideal place for business meetings. Click here to get to know more about the MAX-Fliz VIP Gold.
Just next to the zone mentioned above, you can find the Tyskie VIP Silver zone. For those who decide to watch football encounters here, we guarantee comfortable seats with a good view of the pitch. The ticket price includes a warm dish and a drink to choose. The unique atmosphere of the place has been emphasized by modern decoration and special Tyskie Fun Zone. Click here to get to know more about the Tyskie VIP Silver.

In case you still have not decided on which zone to choose, we invite you to see our photo-gallery and video or take a virtual tour of the VIP area.

Tickets can be purchased at the stadium, on the 1st floor above the Fan Zone (entrance from Reymonta street).
It is possible to pay either by cash or by card.

Tickets can be ordered also by mail: vip@wisla.krakow.pl

VIP Office's opening hours:
- from Monday to Friday between 9:00 and 17:00, on the 1st floor above the Fan Zone
- on match day from 2 hours before kick-off, at the main entrance to the VIP area.

Access to the VIP Area from Reymonta street (between the TS Wisła Old Hall and the new one) or Chodowieckiego street.
VIP Area Information and Ticket Reservation:


Telephone.: +48 789 406 372
E-mail: vip@wisla.krakow.pl